3 QUICK WAYS TO ADD SOME INDUSTRIAL CHIC TO YOUR BATHROOM
Author LCY / Published: July 11, 2019
Industrial-inspired space usually is a blend of utilitarian architecture or elements that are reminiscent of old factories and feature metal shafts, brick, and cast iron, or other materials in similar nature to create an airy, gritty, yet relaxed atmosphere. Though it can completely stand alone in style, industrial features can easily be integrated with other styles to create a unique, personalized, and creative look entirely. Whether you choose to create a completely industrial-style bathroom, or one that just has loose inspiration, the 3 quick ways below can get your revamp started.
Add concrete without adding concrete.
How does one do this? Luckily, there are inexpensive and DIY ways – either with concrete removable wallpaper/wall panels, or tile, it is possible. Simply choose one or the other depending on budget (wallpaper is probably most affordable). No concrete is needed at all here, but you'll get the gains of the concrete look, instantly.
Dark finish fixtures.
For the most part, matte-black or oil rubbed fixtures can easily suit and set an industrial tone to a space. This shower works perfectly here. Pair with muted colors in the bath for a distressed, yet refined look.
Exposed plumbing.
This one is self-explanatory. There is no need to strategically hide any plumbing behind cabinets anymore. Exposed plumbing is not only an honest and space saving way to go about, it is a subtle way to instantly give your bathroom an industrial feel. While not required, customizing the coloring and material of your other fixtures and plumbing would further bring the room together to an industrial chic look.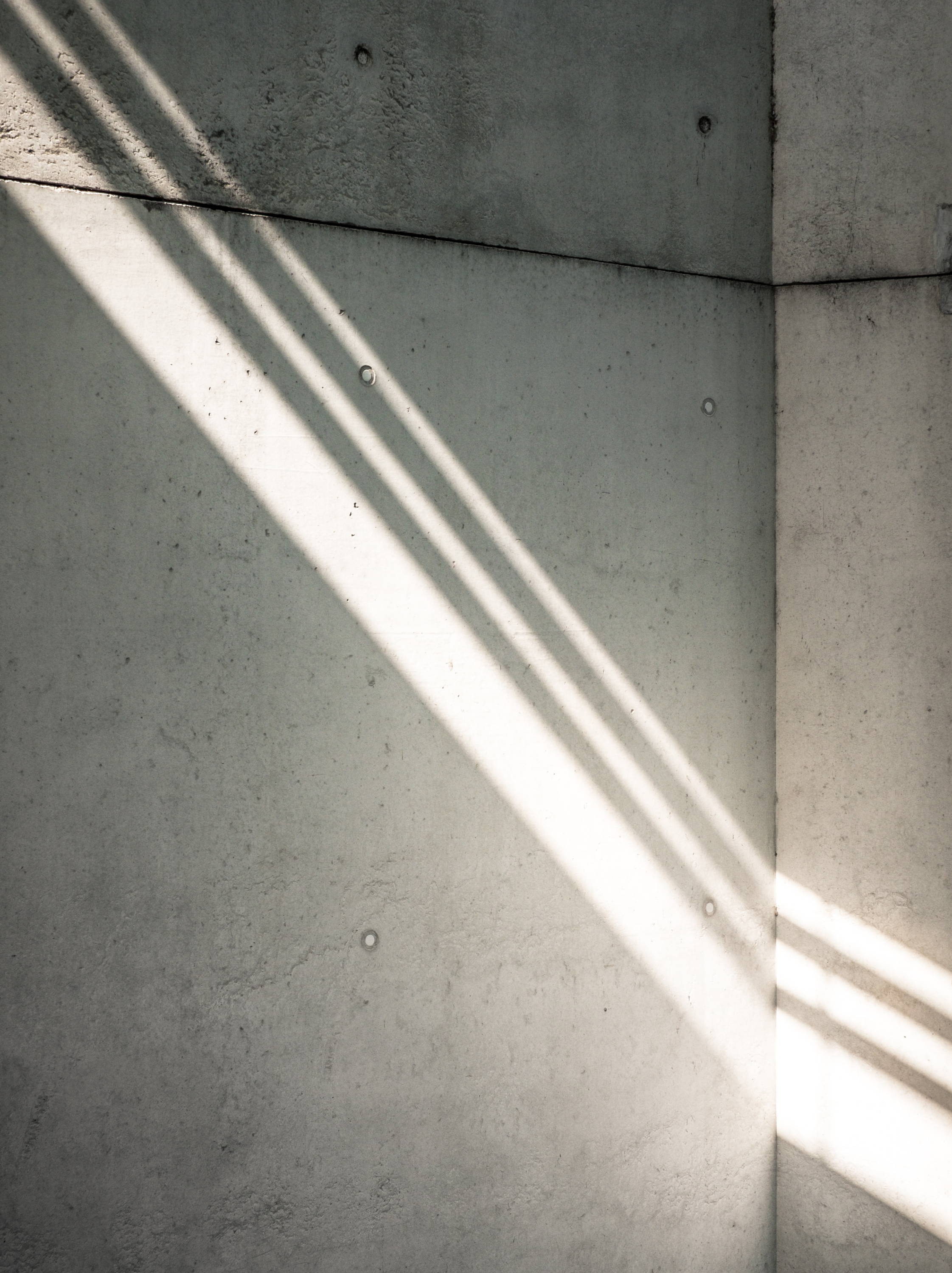 This industrial-inspired bathroom wall has all the benefits of the cement-look, without any actual cement.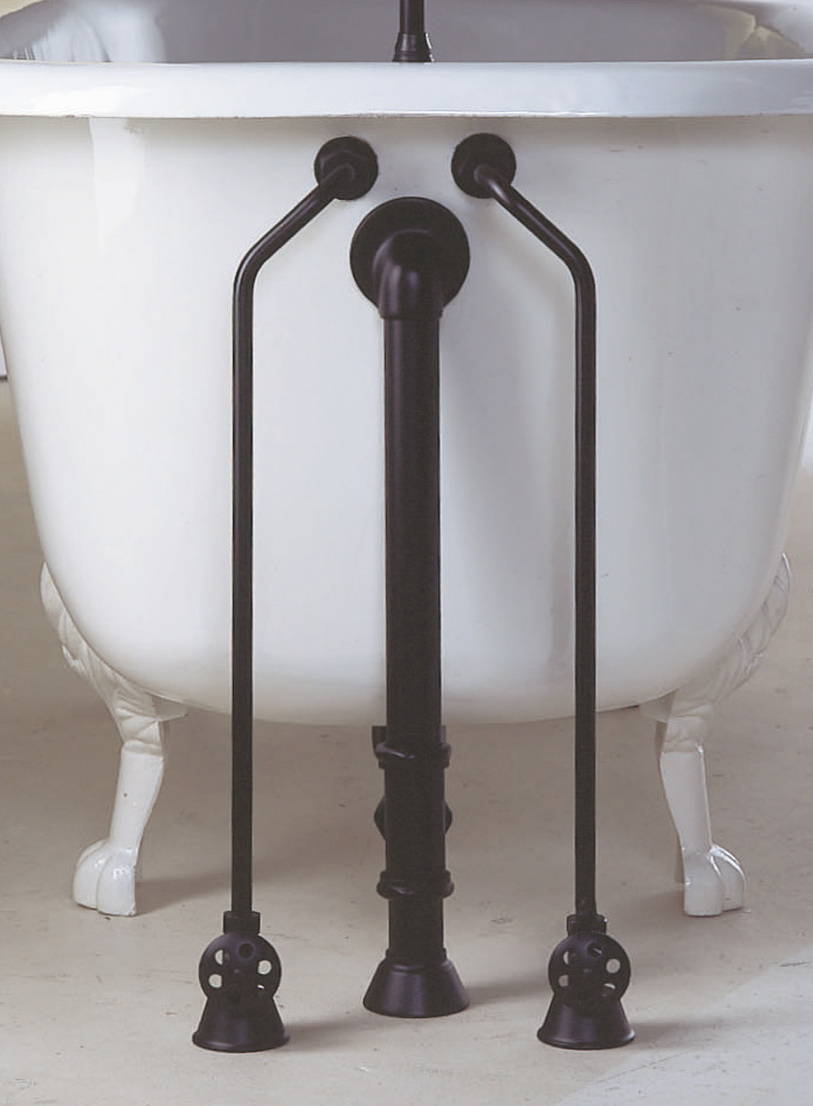 Pair your dark fixtures with matching exposed plumbing for a complete, industrial look.
---
5 QUICK WAYS TO SAVE WATER IN THE KITCHEN
Author LCY / Published: July 4, 2019
​We often take for granted how easy it is to access clean, usable water. On average, the bathroom and kitchen faucet make up 16 percent of the water used in an American home. In this home, a single person consumes nearly 11 gallons of water, per day. The kitchen is where most American families gather and where the usage of water always runs high. How do we conserve more water so we can be more resourceful, reduce waste, be more responsible, and save money?
Invest in a quality faucet. There are leaks caused by several factors: bad installations, older installations, deterioration of materials, but the worst is if the faucet is made of cheap materials. It's important not to skimp on selecting a quality faucet – choosing one that isn't built to last will cause lots of problems long term, and the cost of resources, energy and money in fixing it will not be worth it. Here are some quality faucets to consider.
Wash produce in a bowl, or directly in sink. If you clean your fruits and vegetables in a bowl or sink, the savings will add up significantly. You can also reuse this water for plants and gardening!
Don't ignore the leaks. It may seem like a drip here and there, and some leaks are not even detectable immediately. Statistics range, but an example of a leaky faucet at one drip per second can waste over 8 gallons of water per day, which is 2,900 gallons per year. Make an appointment with a professional to make sure any leaks are kept at bay.
Use the dishwasher. Make sure your dishwasher is full when you use it. When you do, you will only use approximately 4 gallons of water versus 20 when handwashing.
Smart cooking. One-pot dishes are a great way to save on water, time and energy! Steaming food is also smart way to cook, as not only does it save you on water, it retains more nutrients, versus if food is boiled.
There are many more ways to save water in the kitchen and elsewhere, but just practicing mindfulness and some of the tips above will take you a long way.
Who knew that one-pot dishes could not only help save time and energy, but water as well?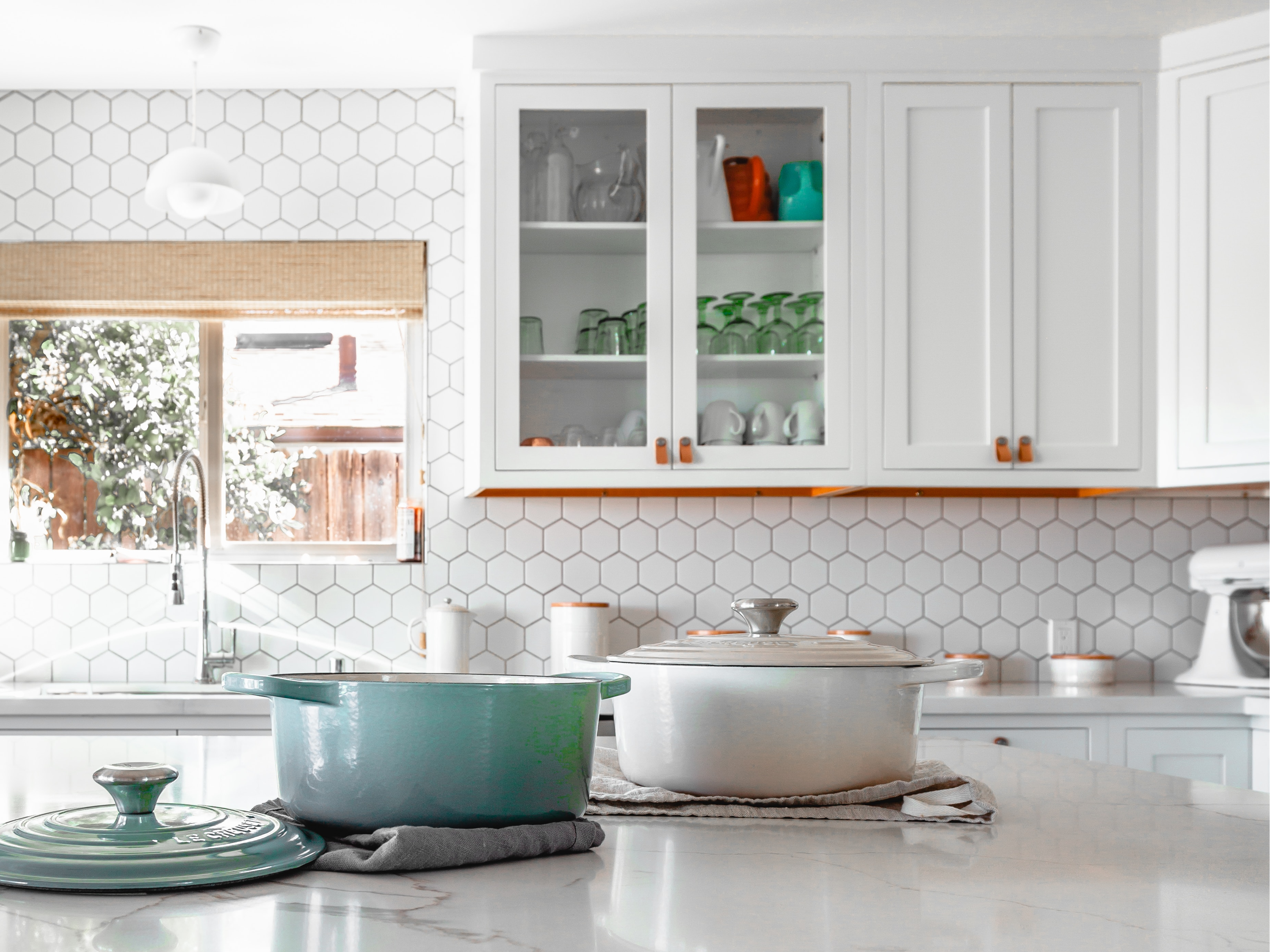 5 WAYS TO TRANSITION YOUR BATHROOM INTO A LUXURY HOTEL SPA
Author LCY / Published: June 18, 2019
One of the greatest things we look forward to while on vacation is treating ourselves to a luxurious hotel experience – everything from fluffy towels to room service allows us to indulge and relax, and therefore is likely worth the expensive price tag we paid to get the experience. Though we can't be on vacation all the time, why not incorporate some changes in our homes and create our own five-star sanctuary? Before you shrug this off as impossible – embrace that even small adaptions can make a huge difference – and are more achievable than you think. Let's start with our bathrooms – here are 5 ways to convert it into your very own luxury hotel spa:
1. Choose a chrome finish
Chrome can look ultra-sleek and modern, or classic and timeless, depending on how it's paired with the rest of the room and décor. Either way you choose - it's guaranteed to feel glam and hotel-esque. With good lighting (natural and installed), you may begin looking forward to your daily morning and evening routines and question why you didn't make these changes earlier.
2. Go marble, or go grey
Marble will pair perfectly with chrome, and is absolutely a most refined choice in bathroom material. If marble is out of the question or too big of a change or investment, choose a light grey scheme in walls and counters. Light colors in marble or greys will open the room and make it seem bigger and brighter – especially if there already are windows and high ceilings. Add some mirrors, white towels, and voila – home, the most beautiful hotel spa you've indulged in, yet.
3. Double the sinks
Both useful and sophisticated, double sinks are no longer limited to fancy suites, and could probably be the best addition into your busy lifestyle if you share a bathroom with your partner. These are some of our favorites.
4. And perhaps double the showers
Why not consider this option if you have the space and means?
5. Let the bathtub take center stage
Nice bathtubs are undoubtably the highlight of hotel spas. Choose one made of high quality –from the tub itself, to the fixtures. An acrylic tub like this one is not only high quality, but fits perfectly for a hotel spa or your home. The tub will not only frame the rest of the room, it should be where you go to give yourself the luxury five-star soak.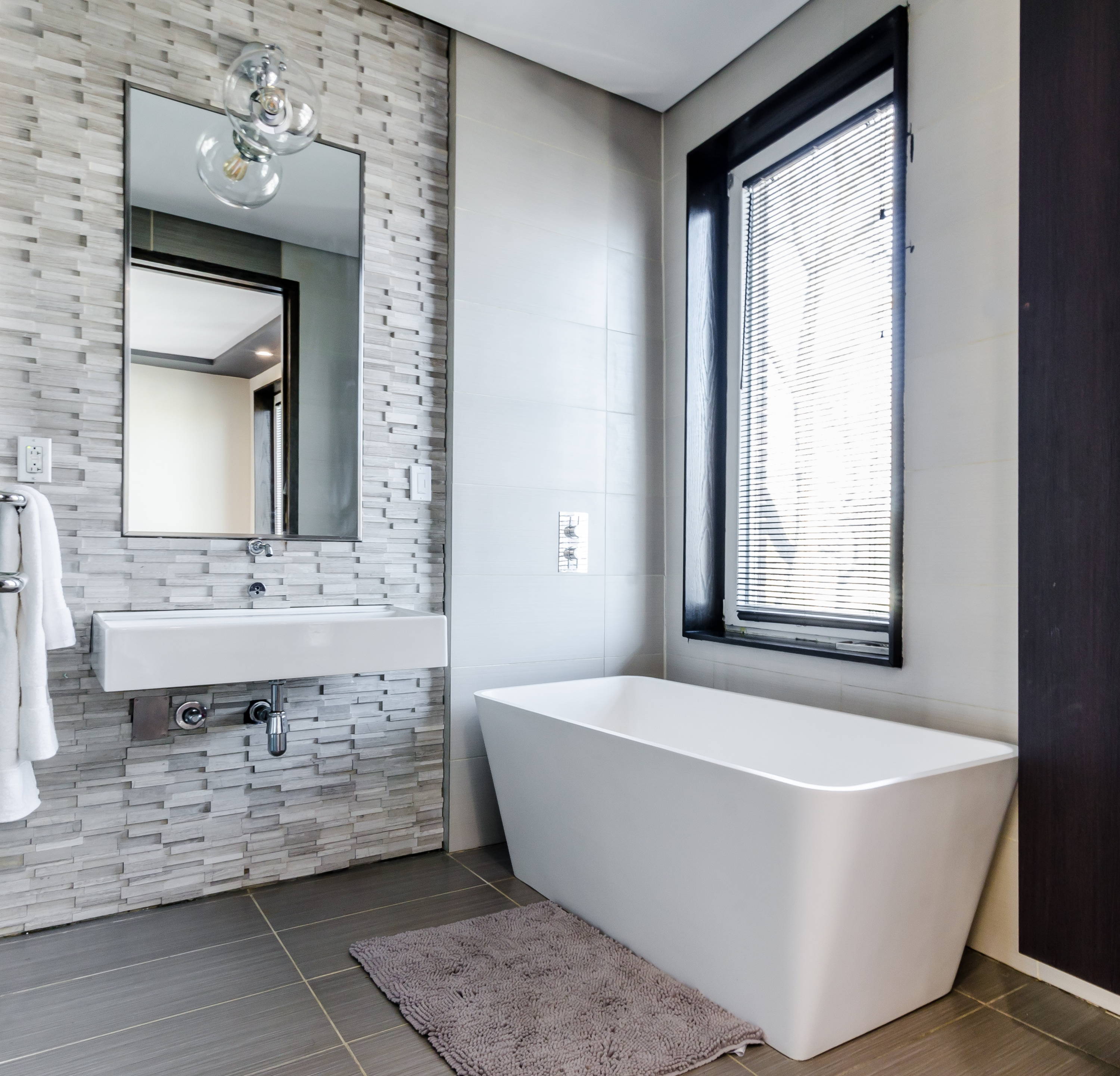 If marble isn't for you, light greys will open up your space and soothe you into your own luxury spa in no time.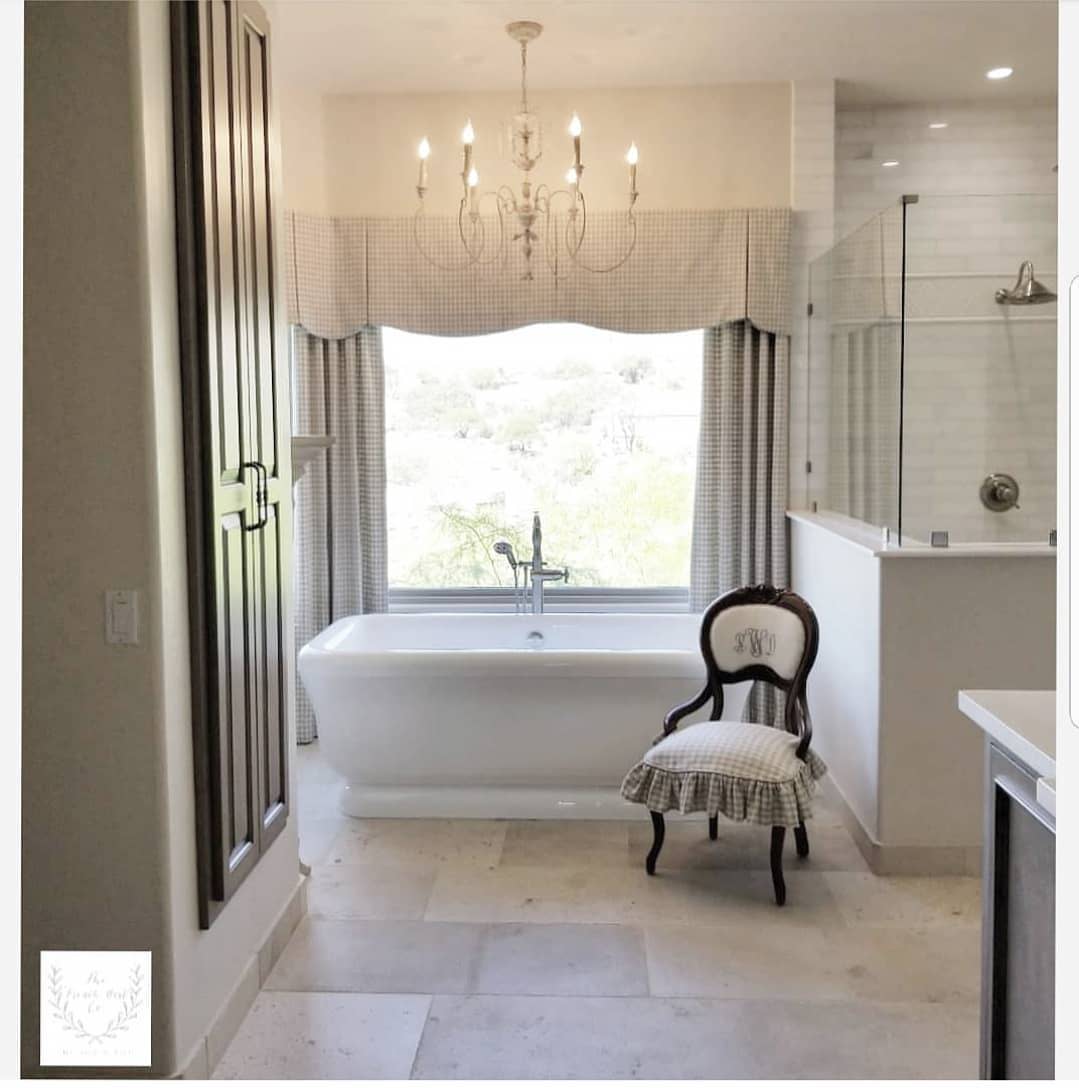 Despite all the lovely details in this room, the tub clearly sets the stage. Photo courtesy: thefrenchnestcointeriordesign via Instagram.
WHY YOU SHOULD TURN YOUR BATHROOM INTO A WET ROOM
Author LCY / Published: June 18, 2019
First and foremost, what is a wet room? Recently, between being featured in designer hotels, to HGTV specials, wet rooms have become all the rage. The wet room is a bathroom but with its floors and walls sealed with waterproof membrane to prevent water from running through and damage. Many wet rooms are also designed with sloping floors so excess water can also easily flow to waste draining.
Showers are likely the most popular installation in a wet room, with waterproof or glass walls to separate it from the toilet and other parts of the bathroom. Finally, shaving appliances and other items meant for a dry environment are not permitted for safety purposes in a wet room. Aside from seamless aesthetics, there are many reasons why wet rooms are a good replacement for traditional bathrooms.
It's space efficient.
Ideal for small bathrooms, the wet room could just be a shower instead of a full-on bathtub and shower combination. With no extra doors needed to separate dry activities, a wet room can just house the shower. By doing this, the room opens, versus getting crowded by extra doors. If you do choose a bathtub, it's no problem either – dividers are also optional here. We love this shower.
It's accessible.
Again, because there aren't so many extra doors and ledges, the wet room becomes very handicap accessible, as movement becomes much easier with space more widely available.
It adds value to your property.
Because of all the waterproof and sealing adds in your wet room, your home will be better maintained by these treatments – and this is especially a great plus for a room that is usually known to get the most damages done by water. This in turn, creates incredible value when it comes to keeping your home in better shape, and significant water-related problems are avoided. Hence, if you decide to put your home on the market, your wet room makes your home extra desirable – double points if you also have another traditional bathroom as well.
It's easy to clean and keep clean.
A top reason why people love wet rooms, is how easy it is to clean. Without having to worry about cleaning solutions touching and damaging non-waterproof areas, you can pretty much use the same solution throughout the room without much worry – and disinfecting can be just a one step process. Most wet rooms also have an open design, so mildew and mold doesn't have too many dark corners to creep in and hide under, and general cleaning can be low maintenance.
If you ever decide to put your home on the market, your Wet Room makes your home extra desirable.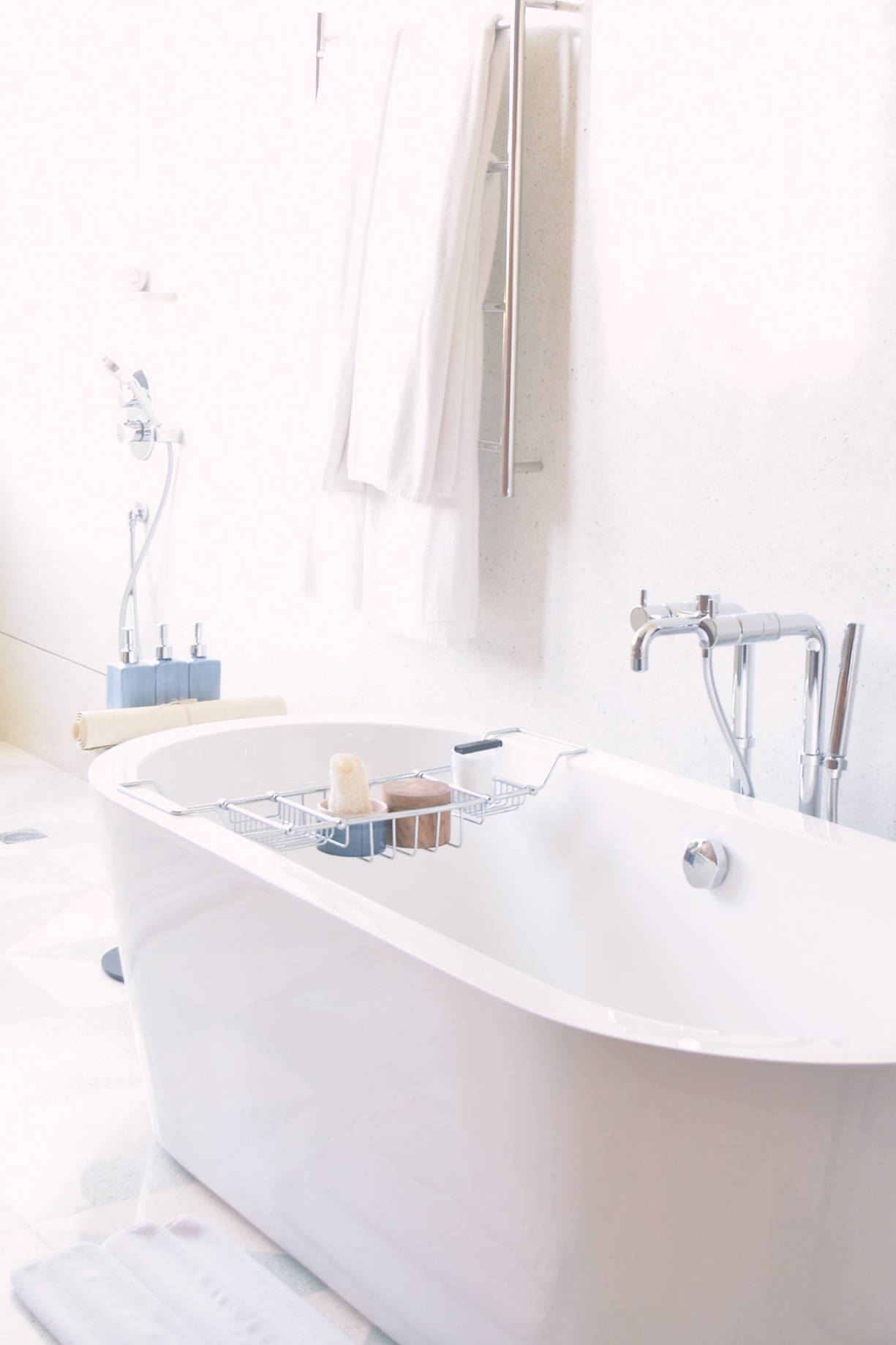 The shower drains to the floor and no door is necessary in this wet room - making the bathroom more spacious and seamless.
---
THE TOP 2 THINGS TO CONSIDER WHEN SELECTING YOUR BATHTUB
Author LCY / Published: June 7, 2019
In today's fast-paced world, many feel the need to save time by taking a quick shower. But abundant research shows that taking a bath not only encourages you to slow down and relax, it has numerous benefits for your health. A bath is also a fantastic way to reward yourself after a busy day – soothing not only the body, but the mind. There's a bathtub for everyone, and here are the top 2 things to consider when you choose yours.
Space
The amount of space you have will be an important factor to consider when choosing a bathtub. If you have a lot of space, then you don't have too many restrictions – clawfoot, freestanding, oval, rectangular, slipper, are just a few options to choose from. Meanwhile, there are many designs that can accommodate to small spaces as well – smaller freestanding tubs, alcove tubs, and some Japanese-style soaking tubs, to start.
Material
There is a lot of variety when it comes to materials for bathtubs, so it's important to choose one that feels comfortable to you. However, like for many things, the most comfort may also be the most expensive, but this may not always be the case. For tubs, the heavier the material, the more it is likely to cost.
Fiberglass is the least expensive material that bathtubs are made of, but it is surprisingly capable of withstanding heavy impacts of any kind. A downside is that it is a porous material, so with time, the material will warp with use. Porcelain on the other hand, is non-porous but delicate, and will not withstand heavy impacts as well.
Acrylic is lightweight and can feel quite like fiberglass, yet the material is non-porous, so it is significantly more durable and resistant to impact.
Cast iron is probably the most durable choice on the market, and resistant to chipping, scratching, and denting. The strong material is also great at retaining heat – so your water will stay warm for much longer than some of the other options. Due to its heavy nature, it may require a bit more labor for installation, but many people feel that it's worth the investment.
Finally, Wood is an option for those who appreciate its aesthetics. While most are sealed with water resistant wax, the tubs still break down with use through the years, yet its still one of the more expensive options on the market – so many may not agree to this investment comparing it to others.
Now, after considering these 2 important factors, what kind of bathtub would you choose?
Consider the amount of space you have before you make a decision on your bathtub.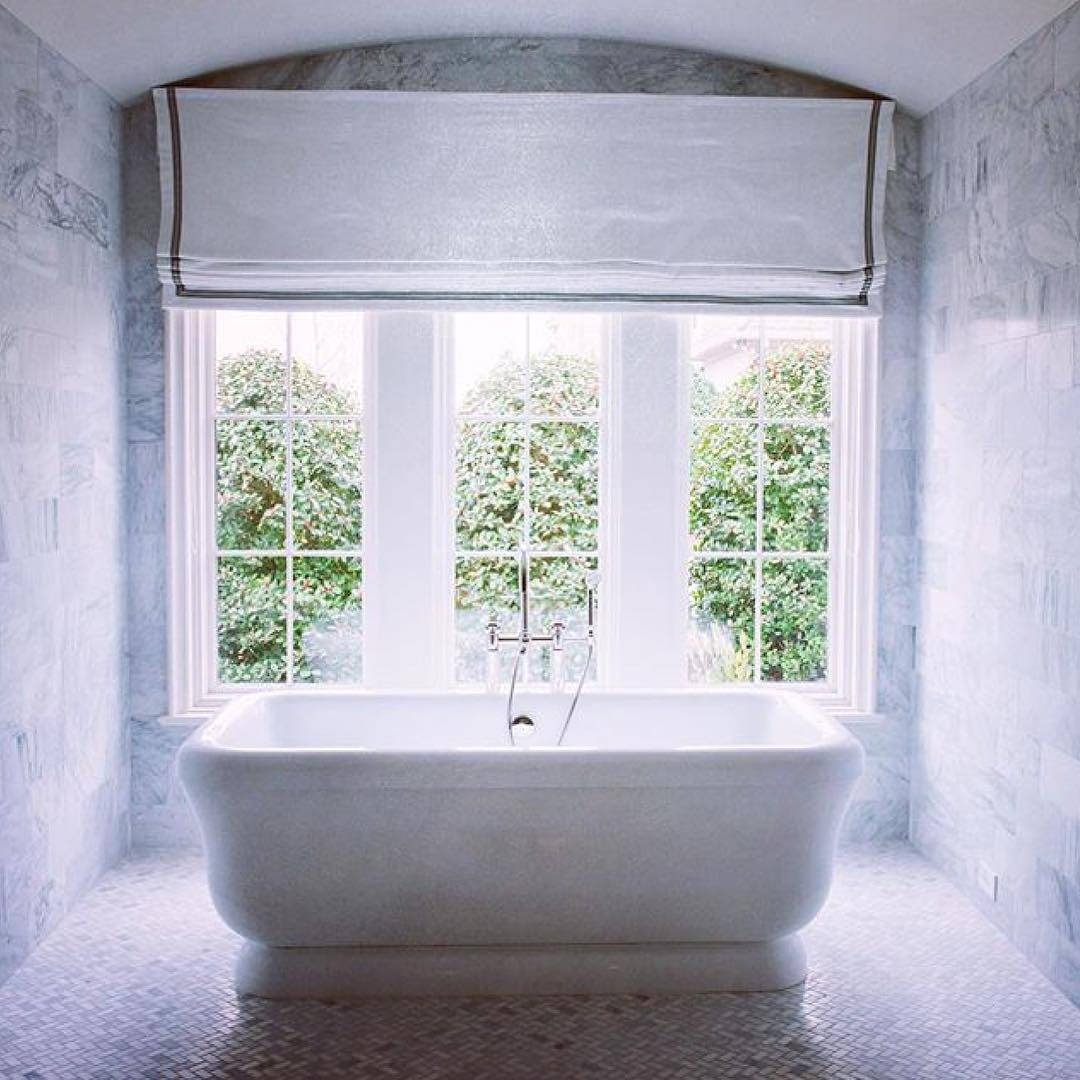 Acrylic Tubs are not only non-porous and resistant to impact, they come in a variety of shapes and sizes. Photo courtesy: fixturesandfinishes via Instagram.
SMALL BUT IMPACTFUL UPDATES: THE FAUCET AND FIXTURES OF YOUR BATHROOM SINK
Author LCY / Published: May 30, 2019
When it comes to renovating or updating your home, experts often advise to prioritize everything from adding garage doors, to installing energy-efficient appliances, to even taking on full kitchen makeovers. But many people shrug this advice aside and end up choosing their bathrooms as the very first stop for change. Why?
The bathroom is often the room with the most wear and tear in a home. Family and visitors alike will frequent this room – so not only is it constantly occupied, it's highly visible. Thus, it may not be a bad idea to follow your heart and start here – one fixture at a time. Most importantly, not only will these updates will give your space a fresh look and feel, if it's an upgrade in quality – it will withstand the test of time and high usage – all contributing to a rewarding ROI. Here are some useful reminders and tips:
A full-scale renovation is often unnecessary.
A quick upgrade on your sink – changing the faucet and fixtures, will immediately leave your bathroom feeling luxurious and premium.
New sink or old sink?
Will you be keeping the old sink or are you replacing this as well? If you are on a budget, consider thoroughly cleaning your current one. If you plan for a new one and have a spacious bath, a farmhouse sink instantly elevates the room. For smaller bathrooms, a pedestal sink is space efficient. Also, if your master bath only has one sink, consider adding in another.
Material Matters.
When it comes to material choice for fixtures, aesthetics is one thing and durability is another. As far as wear and tear, brass is best. It not only lasts for years; it is unlikely to corrode. It's a more expensive choice, but surely worth the investment for these reasons. Zinc and Zinc alloy fixtures sometimes fit the bill when it comes to aesthetics, and in that they are much less expensive – but they are not the most durable. Plastic is the least expensive, and least durable – but probably the least expensive of all. Finally, if you're comparing a few and have them in front of you, you can generally judge the metal quality by how heavy the piece is.
Measure precisely.
When matching fixtures with new or old sink, determine the fit by measuring the distance of the holes in the sink shelf. The sink may have one, two, or three holes for the faucet, and the holes will be either center-set or wide-spread.
A quick upgrade on your sink – changing the faucet and fixtures, will immediately leave your bathroom feeling luxurious and premium.
The faucet and fixtures quickly transform an old bathroom into a refreshed and stunning space. Photo courtesy: neverfinishhome via Instagram.
---
MATERIAL SPOTLIGHT: BRASS
Author LCY / Published: May 22, 2019
People decide on the following factors when selecting the material for their faucet and fixtures – the cost, the design, the durability, you name it. However, there is a reason that of the many materials available, brass continues to be a tried and true industry favorite over steel, plastic, zinc. Due to its durability and low likelihood of leakage and corrosion, it is the choice of most industry professionals.
When you are looking into updating your sink faucet and fixtures, below are some reasons as to why Solid Brass should be at the top of your list.
It lasts. For a long, long time.
Brass is known to sustain well through the years. Even with high wear and tear, it can endure it all, and for much longer than other metals and materials. Unfortunately for these same reasons, it also makes it more expensive. The cost of durability is priceless to many though, as with everything from hot water to environmental factors, it doesn't damage easy and holds itself up.
It's compatible with so much.
Brass is so popular in the bathroom and kitchen that replacement parts are easy to come by. Brass is also a favorite material that can be used for so many different aesthetics – so between vintage and modern styles – it won't be difficult to incorporate in any on the spectrum. Also, along the lines of both form and function, plumbing and clawfoot bathtubs that are made of brass can easily pair.
It's unrivaled quality.
it's difficult to rival with the strength of the combination of zinc and copper. The strength of brass again makes it last and sustaining, so replacement due to corrosion or even rust is unnecessary. It can be hard to swallow a huge cost for brass, but people find that this initial investment makes the ROI in the long-term worth it – it pays to know that it may be the last faucet you'll ever purchase.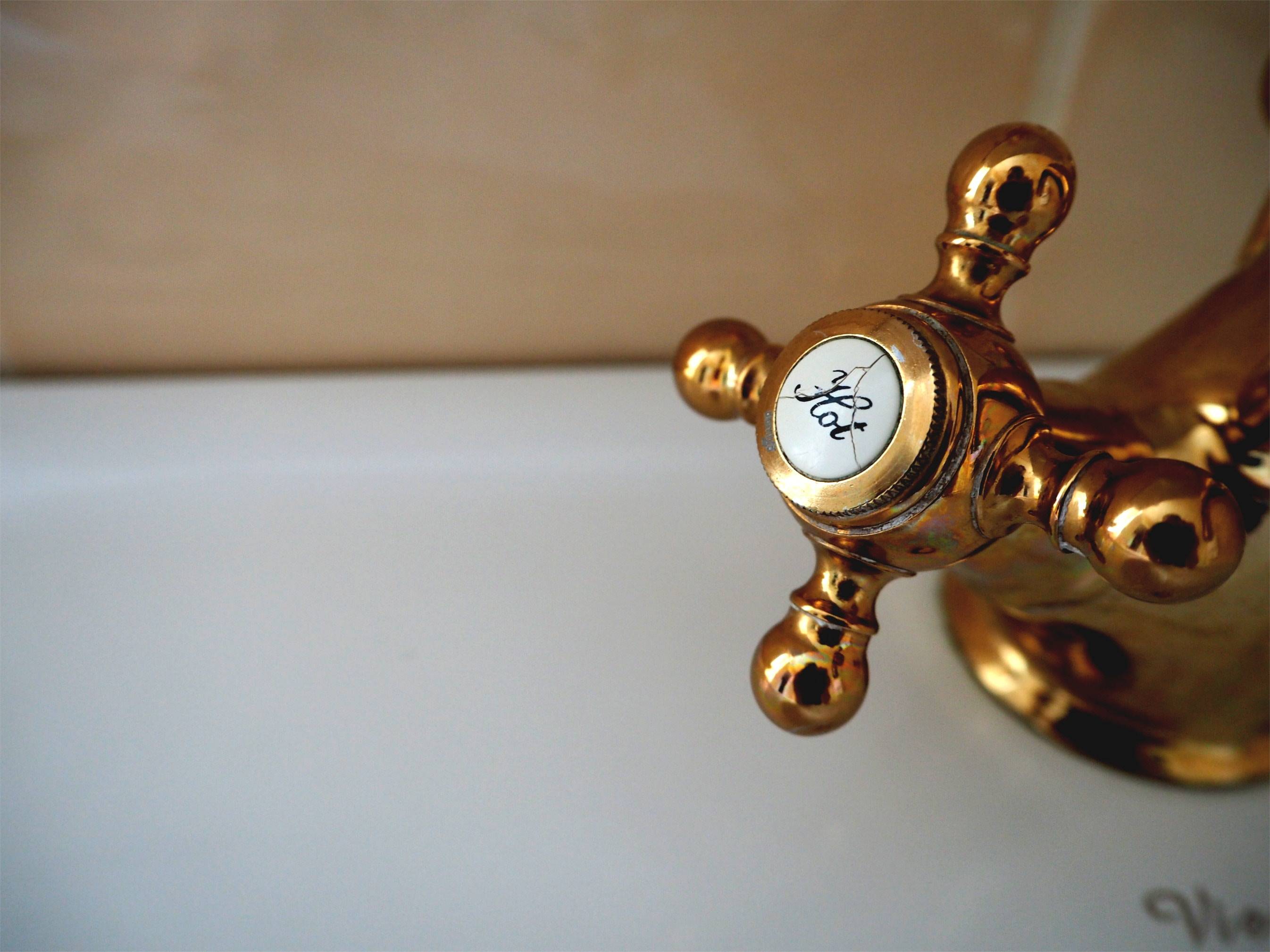 Brass is top quality metal known to last through generations.
Raw Brass starts to tarnish with some time and usage, but the aesthetic effect is highly desired and sought after. Photo courtesy: tiffanyw9 via Instagram.
---
HOME UPDATE: MIXED METALS
Author LCY / Published: May 16, 2019
Home updates of any kind – from redecorating to full-on renovations – can be daunting for numerous reasons. However, the days of "everything needs to match perfectly" are over – mixed metals are in and here to stay – and this makes updating each room in your space much more approachable.
With these pro tips, your space will pull off mixed metals beautifully, and in no time.
Choose: A marrying element
When incorporating different metals in a room, it might be as simple as starting with an item that couples the two together. Think along the lines of a décor item, or even a mirror with a unique frame with both elements. One simple item like this can allow other items to flow and tie everything else in the room together with ease.
Choose: A finish and stick with it
A trickier portion of mixing metals is sticking with the same finish. Once you decide on the look of the room (modern – polished, matte) or traditional (oil rubbed, supercoated) and anything in between) – it's wise to choose just one finish to achieve the results you desire.
Choose: A leading metal
The leading metal would be the main metal of the room – other metals would supplement this metal. It would be ideal to choose this metal for fixed, high-traffic and high visibility fixtures such as kitchen faucets or bathtub faucet sets to lead the tones for all the other elements in the room. For those who prefer a more modern look, trendy finishes like shiny copper or chrome and stainless work well here. For farmhouse or French country styles, brass and oil-rubbed finishes are perfect. Matte finishes may work well for many different styles, depending on other details and the overall look of the room.
Choose: Less over more
It might be easy to get carried away with so many beautiful metals and finishes, but less is more has never been a more practical and wiser tip here. Too much going on can easily overwhelm, clutter, and pose the opposite effect of what is trying to be achieved. It's always smart to stay subtle and highlight a few special pieces while keeping the rest of the room neutral or with non-metal elements.
Stay subtle and highlight a few special pieces, while keeping the rest of the room neutral or with non-metal elements.
With the neutral wood and brick of this home, themes of chrome and matte black metals don't overwhelm and balance each other beautifully.
---
TIPS FOR A VINTAGE-INSPIRED HOME WITHOUT IT LOOKING OLD FASHIONED
Author LCY / Published: May 6, 2019
There are so many beautiful ways to style a home or living space, but the look and practicality of vintage design is truly one that is tried and true through time. Here are some ways to revamp the main rooms of a home with a vintage-inspired look, with the efficiency of modern functionality.
The Kitchen: Farmhouse-Style Sinks
"They don't make them like this anymore" is a popular phrase we hear in the mass-produced world we live in today. However, The Clarion, a 60" Cast Iron Farmhouse Drainboard sink is actually an authentic reproduction of the original Farmhouse Drainboard Sink, a true American Classic of the 1920's. Made of cast iron, the quality and durability is unquestionable. This period-piece will instantly add vintage charm to your kitchen and will withstand the heaviest of use.
Powder room: Metal+ Porcelain Faucet Fixture
A material most well-loved in the Victorian time frame was porcelain – everything from tea sets to dolls were made with it. An instant way to give your bathroom vintage accenting would be to upgrade your bathroom sink faucet and fixtures is choosing one with a metal and porcelain material – this Columbia Lav Set with Gooseneck Spout & Porcelain Lever Handles will instantly give some vintage detail to your powder room.
Living room: Statement Wallpaper
Wall paper has made a huge comeback over the recent years. A beautiful way to revamp your living room without making a complete change with furniture or moving too many things around, is adding statement wallpaper to give your room a fresh look. There are so many vintage patterns and color palettes to choose from - here are some beautiful inspirations to help with your selection:
Bedroom: Antique ceiling light or lamp
We all know the importance of mood lighting, and this vintage upgrade should further enhance your personal sanctuary for rest, reflection and rejuvenation. Paired with a warm bulb, the beautiful details of the light will be calming and will hopefully invite you prepare for a good night's sleep.
Main Bathroom: Free standing tub
The ultimate vintage luxury is a beautiful and timeless freestanding bath. The Huron, a 5' Acrylic Slipper Tub is the most gorgeous way to allow yourself to relax and treat yourself to a soak in vintage elegance. The legs and design are of premium quality and one-of-a-kind. All you need is some lavender bath oil and votive candles and you can melt away in your own Victorian spa.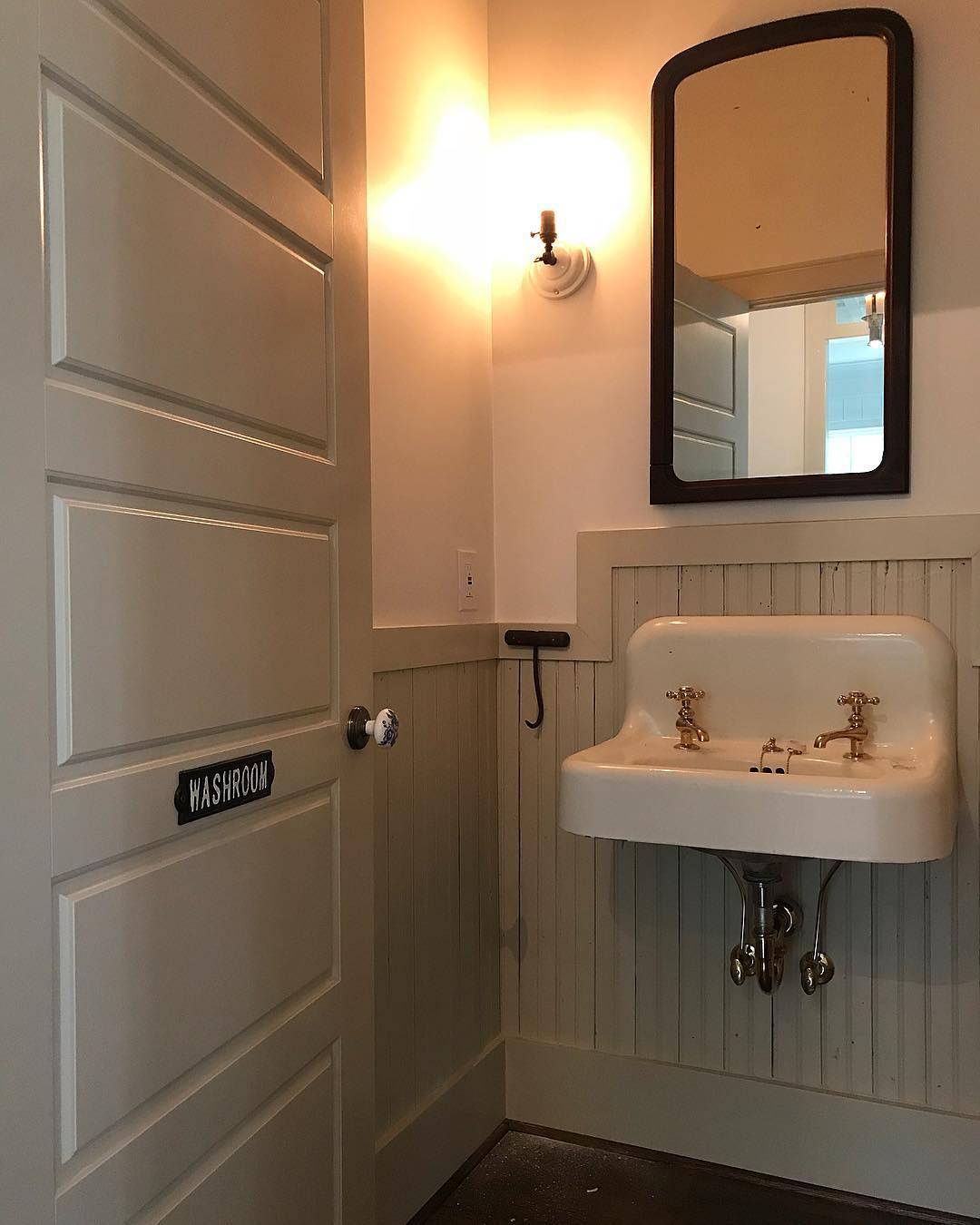 A cast iron sink with exposed plumbing is a sure way to give your bathroom a vintage feel without looking dated. Photo courtesy: thorn_cove_abode via Instagram.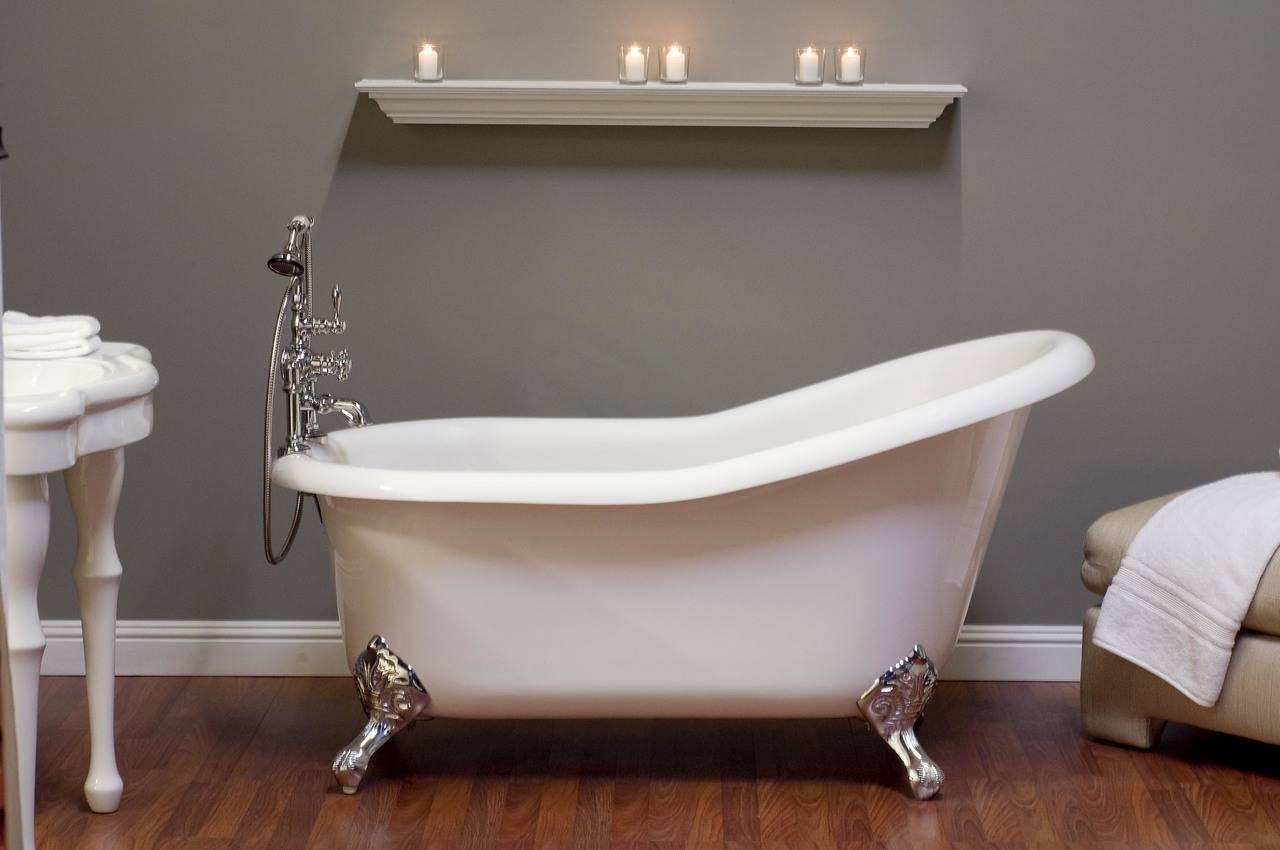 A freestanding bath with custom legs will give your bathroom perfect vintage appeal.